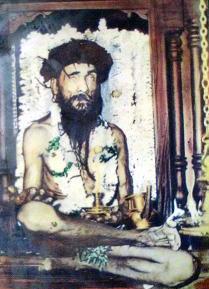 Why to participate Lalitha Sahasranamam(Audio)
Lalitha Sahsranamam(PDF) What is Kudumbasamiti
!!!Om Sadgurave Namah!!!
SREE RAMADASA MISSION UNIVERSAL SOCIETY
KUTUMBASAMITI
WORLD IS ONE FAMILY
BEST VIEWED ON 1024X768 RESELUTION
SET YOUR SCREEN TO 1024X768 RESOLUTION
For Aaradhana Video Clip[Swamiji]
Visit http://kudumbasamiti.tripod.com
Sahasrakoti Lalitha Sahasranama Archana
At Badalapur Sreeramadasa Ashram
Ramgiri,Ambesiv,Maharashtra
!An offering by the sages of India to establish world peace !
10 Billion chants praising Mother Goddess for the first time in History at Sree Rama Dasa Ashram.
Started from Hanumad Jayanthi Day - 16 April 2003 at Sreeramadasa Ashram Trivandrum Kerala and is still going on uninterupted. To fullfill it's objective it needs much more participants and effort and hence Sreeramadasa Mission is organising Sahasrakoti Archana on Badlapur Asram by October 2006.For this Mahayajya to be successful 20000 families are required to participate in the Mahayajya.

Sreeramadasa Mission is oraganising families as Kutumbasamitis,Kutumbavahini,Khsetrasamities.
1 Kudumba Samithi 20 families
2 Kshetra Samiti 20*20 =400 families
3 Kshetravahini 400*20=8000 families
4 Khetra Sagar 8000*20=160000 families
5 Mandalam 160000*20=3200000
Each kutumba Samiti will be given training on LalitaSahasranama Archana and other Mantras.

For this each one of you are requested to participate and make others participate. This yajya of this Scale is the first time in all the chaturyugas and is once in generation oppertunitie.

How can one Participate.


| | | |
| --- | --- | --- |
| 1 | Be a Yokta | |
| | | Select 50 Archakas |
| | | Train them on mantra chanting, vruta nishtha and purity. |
| | | Conduct weekly archanas |
| 2 | Be a hota | As an archaka for 10/14/21/28/35/41 days |
| 3 | Do Seva | As a hotrika for 10/14/21/28/35/41 days |

Participate as Organizations

Different Hindu Organizations can contribute and participate in the Yajya like Sai Seva Samitis, Ganesh Mandals , Ayyappa Seva Sangam etc. By contacting Sreeramadasa Mission we can arrange Conveyance, training etc.

Filling The Web Form.

TThe person can fill his address and other details corresponding columns. The Referece Id column is to be filled with persons membership ID who has referred you. If you are joining by yourself keep the reference id as 1.A reference person can see the information of all members he has joined.

On successful registration you will be assigned with a Membership ID , a password with which you can see your info on the web. You will be given a Mail ID also for making communications.

Alternatvely you can kutumbasamiti@gmail.com for contacting us.

Badlapur SreeRamaDasa Ashram

Badlapur Asram is situated at Ambisiv village of Badlapur. The place where the Asram locates is known as Ramgiri.The Asram is also known as Ramgiri Ashram. Ramgiri Ashram has Three Pratishtas which was done by Jagadguru Swami Satyananda Saraswati Himself .

This site is under cunstructun. Please keepvisiting. Your valuable suggestions are most welcome.Please write to me on : reach.kannan.nair@gmail.com,sanjaikumar.vn@polaris.co.in